w00h00! Yippy! *happy dance*

After almost two weeks in transit, the Boy Socks arrived at their destination!

See?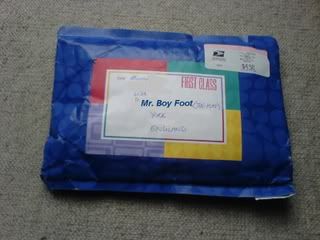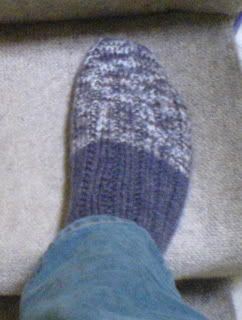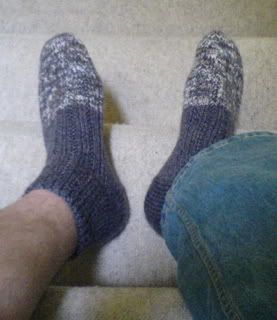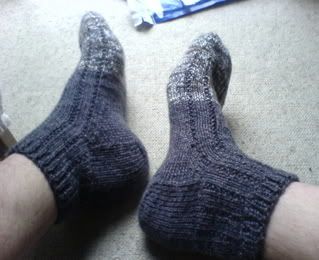 and just to demonstrate his attitude on the matter:

Happy Feet!
Oh...and for those of you wondering, here's the "sock interview" with Mr. Boy Foot:
Me:
I'm curious if I made the heel flap too long, (I know they are too short ankle wise) curious about the girth, did they go over your ankle nicely?
MBF:
Perfect fit, aye a little short in the ankle, but it doesn't stop them being comfy, and I'm not going to wear boots over them, etc. I don't imagine.
Me:
Too loose?
MBF:
Nope, don't feel loose at all really.
Me:
Roomy enough in the toe?
MBF:
Plenty.
Me:
Long enough??? [in the foot]
MBF:
Yup, not tight at all.
Me:
Some of the photos look like you're curling your toes.
MBF:
That was me trying to make a smiley face with my feet, I think.