So, those of you with a keen eye will have noticed that those two sock toes yesterday did NOT look the same. They weren't. I was so intent on making my increases properly, that I didn't alternate increase rows and plain rows. *Sigh* Frog pond on that...LOL. Good news...I cast right back on for that second sock, and got all the way through the heel last night. I probably would have finished the whole thing, but Braveheart came on, and I just had to turn it off and do something else before they killed his wife. (Yes, I'm a sap...so sue me.)

Here are today's photos: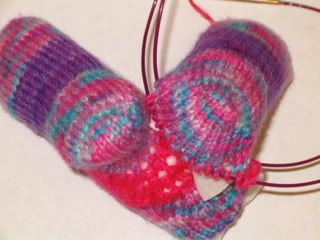 Why, yes, I stuff my socks with tissues...don't you?