My Knit Mitt Kit Swap package arrived today! It was from Becky.

Here are the photos/descriptions:

Opening the box: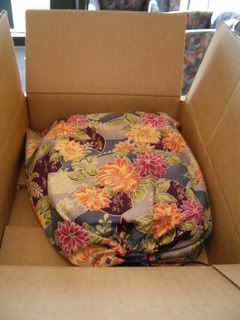 And the goodies inside:




That's 4 skeins of KnitPicks Swish in Dublin, Jade and Aloe (Green, Green and Green!). There's a pattern book with 5 mitten patterns in it from Mission Falls, and 2 sets of DPN's.

Here's a close up of the pattern:




and a close up of the bag fabric:




Thanks! It looks like fun!