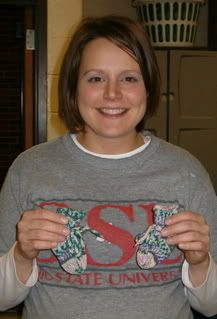 Here is the happy recipient of my latest FO. You can just see the belly starting at the bottom of the photo. She's due Feb. 25th. I don't think she's gonna make it!

Leslie is the teacher at the after school program for my kids. They love her to death, and to be honest, so do I! She will truly be the BEST MOM EVER! She has the patience of a Saint, and obviously, works well with children!

I wanted to post a word about Kitchener/Grafting. There is an AWESOME pictorial tutorial over on Knitty. The one and only thing I would change on that tutorial is the mantra. She uses "knit, purl -- purl, knit." I would recommend changing it to, "knit, off, purl -- purl, off, knit." This really made the difference for me.