...and on time, too! The baby has yet to arrive, and the gift has been delivered! <forehead wipe>*Whew*</forehead wipe>

Here are photos with and without flash: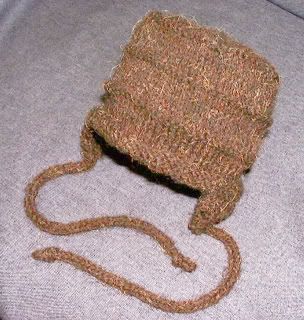 here are photos of the top, which did indeed come out flat, much to my amazement...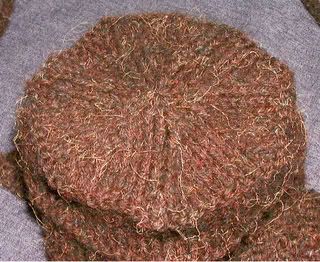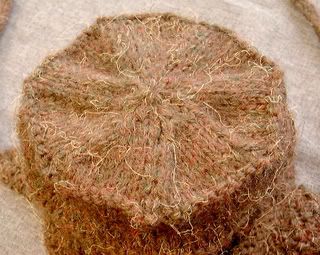 This was a bunch of firsts for me....my first finished hat, my first finished "I knit it in the round, but this thing is flat", my first I-Cord (which I have discovered that *I* must do by throwing or it comes out all funky), my first "altered" pattern. I started several times with different yarn, different needles....and ended up with 1 inch of the hardest, inflexible band of fabric you've ever seen. I just could not get a stretchy band of moss stitch. Therefore, I said, "screw it" and did a rolled brim. Yes, I know it's a bit odd to do earflaps with a rolled brim. I don't care. :P I used the rest of the yarn from the SSsOD (slipper socks of death, see previous blog entries), well, not all of it. I think there is still enough to make some Mary Jane's for my SIL's newest girlie, born on the 5th. She's only 6 lb. 6 oz., so her feet are TINY!!!


May your BOs be swift, and your FOs be many!